So, here at RUST we've just been out testing – and have been super-impressed by – the latest 2021 Yamaha WR450F (see RUST #47). Back in 2010, TBM, tasked with testing the then latest Yamaha WR450F decided to pit it against its grandpappy, the original WR400F. With over a decade between the two models it was going to be enlightening to see what progress had been made.
Not actually having a WR400F to hand, Si and his Sideshow Bob, JK, went and bought one (with JK's money, naturally). It was actually one of JK's old bikes from years earlier. A nonrunner, they paid a princely £600 for it – try getting one for that now – and between essentail repairs and replacement of consumables all up they had it ready for action for a total of £1200. Fair go.
And for the test? They took the pair of WR-Fs to the season-opening trail ride by Chris Evans' Sport Adventure, in Normandy. Three days on some classic French trails.
Now Si's report blew out to a whopping 6500 words so we can't run the whole thing here, you'll never read it. In any case the first 1000 words recanted little more than TBM's low opinion of the '98 model – detailing its failings (in Si's opinion) – and at greater length how this had impacted on the magazine's relationship with Yamaha UK! Si was never one to mince his words. All that's best left in the past, so we'll pick up Si's story with his explainer as to what he was doing, before jumping into the three days of blue on blue action…
words & images: Si Melber
WR400F vs WR450F
It arrived with a splash back in 1998 and gave the rest of the enduro thumper class a proper soaking. I'm talking about Yamaha's WR400F, the first of the new wave of 'uber-powerful', high-revving enduro four-strokes. Back before the Millennium, the middleweight class in enduros was awash with them, and it went on to influence the design of enduro bikes for the following decade. These days you rarely see one of the old 400s in good, original condition, so we thought it would be fun to revisit one of those early bikes and pit it against Yamaha's latest offering in the middleweight class – the 2009/10 WR450F – both on the trail and around a timed special test. How far has the WR-F come – if at all – in the intervening 12 years?
(Edit: cut to a suprprisingly sunny and crisp spring morning in Normandy…)
Blue Sky Thinking
Day one dawned clear and sunny. So clear in fact, that there was ice in all the puddles in the ruts. Would our old Yamaha start up? (Si had spent a fair few words earlier explaining exactly how WR400Fs would never start – Ed) Course it would (second kick, too), though it did take a good bit of warming up to get it to idle smoothly. The 450 purred into life like a giant pussycat, and JK and I hit the trails – looking forward to a great day's ride.
Starting on the 450 I was amazed to discover how silky smooth the latest version of the engine is. On the short blast of tarmac to the first of the day's trails the Yamaha simply gobbled up the road in every one of its five gears, surging forwards with a powerful flood of torque every time you changed gear.
It's tradition that the season-opening Normadie trail ride is an annual mud-fest. The clay-lined lanes hold their fluid better than a TBM staffer at a lock-in, and there's usually more mud about than a wet Welsh summer. Not this year there wasn't, not a bit of it. Despite a long and drawn out winter, the trails were remarkably dry, relatively smooth and a joy to ride. Not that it wasn't muddy in places, but if I'm honest, I prefer the joys of fast single-track to the slog of wet ruts. Good thing too because experience has shown that the WR450F which is a mighty fine and fast beast in the dry, can be an almighty handful in the wet.
On the dry trails of the first day the 450 was proving a joy to ride. Faster than a very fast thing indeed, it effortlessly outpaces ALL opposition on hard/dry routes, no matter what that opposition might be. But it does it in such an unruffled and dignified way that the rider uses almost no effort to keep it powering forwards. The steering is perfect and well-weighted with just the ideal level of feedback, the suspension amazingly compliant and capable, the seat all-day comfortable and the bike so remarkably quiet and efficient that it makes an incredible trail bike for when conditions are dry. Note the words 'trail bike', and 'dry'.
In fact the more I rode it, the more amazed I was by the 450's astonishing turn of speed on dusty trails. Fallen behind because you weren't paying attention to the run leader? No worries, twist the throttle and watch them magically appear in your sights in seconds. This bike is seriously, amazingly, brutally and effortlessly fast… providing the trails are dry. There's that word 'dry' again.
The engine is incredible – not just for its performance, but also for its smooth supply of serious power delivered in an amazingly unstressed way. Incredible also for its utterly faultless carburetion (yes it still uses a good old fashioned carb), and its utter refusal to stall no matter what gear you are in!
And what's more, despite the bumps and the punishment the bike is obviously taking, it simply refuses to get out of shape, to get knocked off line or to squeak or rattle in protest. It is a remarkably resilient machine and I can see why it makes such a good rally bike – and why so many people choose to ride them in the dry and dusty Dakar rally.
If it were a car this thing would be one of the AMG kitted, S-Class Mercs – fast, and powerful, subtle and refined, yet smooth and cosseting for the pilot. And just like an S-class it's incredibly fast in a straight line, but not really designed for dancing around a tight track. The 450 is no different, it runs a wider line on corners than most other bikes would take, smoothes out the bumps and then piles on the coals once the track straightens out. And while it will work its way around tight turns, or between trees without too much effort, it does so in a way that is measured and steady, rather than being nippy or fleet-of-foot.
By contrast our old 400 was a bit of a bone-shaker! Okay, maybe that description's a little unfair, but it didn't feel anywhere near as composed over the bumps. That's only to be expected – 12-year-old suspension which hadn't been serviced (at least not at the rear) nor adjusted for our use, was never going to feel as plush as the latest units. Nevertheless it was remarkable how quickly the new bike covered (dry) ground, compared with the old one.
I'd forgotten just what it was like to ride the old 400, how it needs a good few revs on board to get the most out of the engine, and yet how it feels quite thrashy and harsh once you dial them in. There's no doubt that part of the WR-F's evolution over the past 12 years has been in terms of improving key areas of noise, vibration and harshness!
Nevertheless our 400 was not only holding together, but loosening up nicely as the miles increased. At the fuel stops we took the opportunity of tweaking the suspension and gradually getting the 400 more to our liking. And to be fair to it, it was good fun to ride. You still noticed the bulbous tank pushing out your knees, and the performance differential between the bikes meant working the 400 a fair bit harder to keep up, but hell… it was a 600 quid bike up against a six grand one. There was bound to be a difference!
Blue Velvet
So just how much has the new Yamaha improved from the early one? Well, in a sense it's a bit like trying to compare riders from different generations, the comparison is impossible because circumstances change. Not least you must remember we're not dealing with a brand new WR400F here, but a 12-year-old bike that's had various owners, done numerous seasons of racing and trail riding and been used and maintained in a variety of different ways. It's unlikely to be in its prime.
That said, it did feel pretty good still, and everything was working fine on the bike (brakes, suspension, clutch etc), so certain conclusions can still be drawn. For instance the new bike is considerably faster (in the dry), much more powerful and linear, and far, FAR smoother than the older bike, and maintains that smoothness even as the revs increase, whereas the 400 just gets more thrashy the harder you rev it. The 450 packs a lot more punch in its midrange too – and whereas the 400 needs to be spinning hard to get the most out of the motor, the 450 works best when you shift up early and use the engine's sizeable torque to drive it forwards.
You notice the difference in braking too, the new bike's anchors are much more powerful, and that's not because the old one's weren't working efficiently. In fact they worked very well, but the new bike has the benefits of a bigger front rotor and a more powerful braking system. Just as well really as this thing is a proper beast at times. Never more so than when the going turns sloppy…
Day three dawned cold and overcast, the sunshine of the previous two days was now just a memory, and as we found out, the trails would be more of a mixture of wet and dry too. Dry was fine, but when things get gloopy (particularly soft ruts), that gorgeous new bike turns downright ugly.
The problem stems from the 450F's phenomenal powerplant. In the dry it manages to put down its power in a way that translates into forward momentum, but in the wet it's another story. The twin-cam powerplant revs up so smoothly, so swiftly and so forcefully that it simply overwhelms the softly sprung suspension, and the tyres lose their unequal battle for grip with the substrate. And then instead of charging along headlong, you find yourself going very fast, and kinda' sideways.
I kid you not, I went into one set of squidgy ruts with the power on, and found myself still heading forwards but with the bike on full-lock! The problem is that as it has grown up, the WR-F appears to have gained a few pounds of middle aged spread, the motor's become ever more powerful and the suspension has been softened off to further improve comfort. And the combination of all these factors mitigate against finding grip in the wet. In fairness we've always said that about the 450 – both steel-framed bikes and alloy-framed ones have always been a real handful in the slop.
It's strange because it gives the bike such a Jekyll and Hyde character. On the one hand it's an absolutely fabulous trailbike for when the lanes are baked dry and there's loads of miles to be covered in the day. In such circumstances the bike is an absolute joy to ride, covering the bumpy miles with admirable ease. But then if your day turns wet and slippery, then be prepared for lots of footing, and some much slower going.
Sure you can try charging through the wet stuff, but if you back off even for a second, the stock set-up loads-up the front end so much that it tramlines the ruts and you're forced right down into it. We did try stiffening up the suspension a little and while it improves matters slightly, it only goes a small way to alleviating the problem.
Suspension-wise, the new bike feels much plusher (softer and more responsive to smaller bumps) than the old 400. And while some of that could easily be down to age and set-up, I'd be willing to bet that the new 450s are dialled in to be rather softer now than the old 400s were – more in keeping with their role as rapid trail bike rather than all-out racer. And that's no bad thing, either. Handling-wise, well, there's nothing really bad to report with either of these bikes – wet or dry. I like the way the new 450 steers – it's typically 'Japanese' with solid, stable, and predictable handling, and never a hint of head-shake. Despite much slower steering, the 400 felt slightly easier to get turned than the modern bike (certainly in the wet), but that might have been down to its limited power as much as anything else.
But here's a thing… you DO still notice the 400's bulbous tank – not just when standing, but when you drop down onto the seat and try to slide forwards for a tight turn. It was one of the problems we pointed out at the very beginning, and now the present bike's lovely smooth and open cockpit has vastly improved matters in that department, well, hopping back onto the old bike you notice it even more.
I've talked a bit about the obvious quality improvements over the years, but there are less obvious ones, too. The broader pegs are now made from alloy rather than steel, the seat is no longer covered in a cheap and shiny single-coloured smooth vinyl, but now has a non-slip, multi-textured fabric, the alloy swingarm has a lovely brushed aluminium finish to it rather than just being painted silver (I never understood why Yamaha chose to paint an alloy swingarm), and the new bike's sidestand is not only made from lightweight alloy, but now tucks up out of harm's way, where it won't interfere with a trailing leg in a corner. That was another of the things we pointed out at the time.
But what of the 400's Achilles heel – its starting difficulties. Well… I have to report that our one started easily. Very easily in fact. And although we never dropped it, nor got it caked in mud and hot to the point of boiling, I have to say that this was one of the bikes which DID start. So easily in fact, that once or twice it was quicker to fire up than the electric-start bike! Who says TBM never eats its words!?
Blue Blooded
So what conclusions can we draw from part one – our trail riding comparison test of old and new WR-Fs? That you can buy a cheap secondhand bike out of the classifieds for a few hundred quid, and it could do the job of a bike costing nearly ten times as much – albeit the new bike would actually feel faster, more refined and much more enjoyable to ride? Ha!, you knew that much already.
Actually the conclusions I prefer to make are that 12 years down the line, all the points we openly criticised the 400F for at its launch, have all been vindicated, and more importantly have all been subsequently addressed by Yamaha. So that we've ended up with a bike – which – while not as intrinsically 'sporting' as the original – is nevertheless far, far easier and more pleasant to ride. Well…….. in the dry at least!
So is the modern bike an improvement on the old machine? Of course it is, not just in terms of refinement and speed, but in the key areas of quality and value for money. The new bike is more sophisticated, better equipped and actually much nicer to ride for 90 percent of the time.
2010 Yamaha WR450F
Price when new: £6099
Engine: Liquid-cooled, DOHC, 5-valve single, e-start
Displacement: 449cc
Comp ratio: 12.3:1
Transmission: 5-speed
Chassis: Aluminium semi-double cradle
Wheelbase: 1500mm
Fuel cap: 8L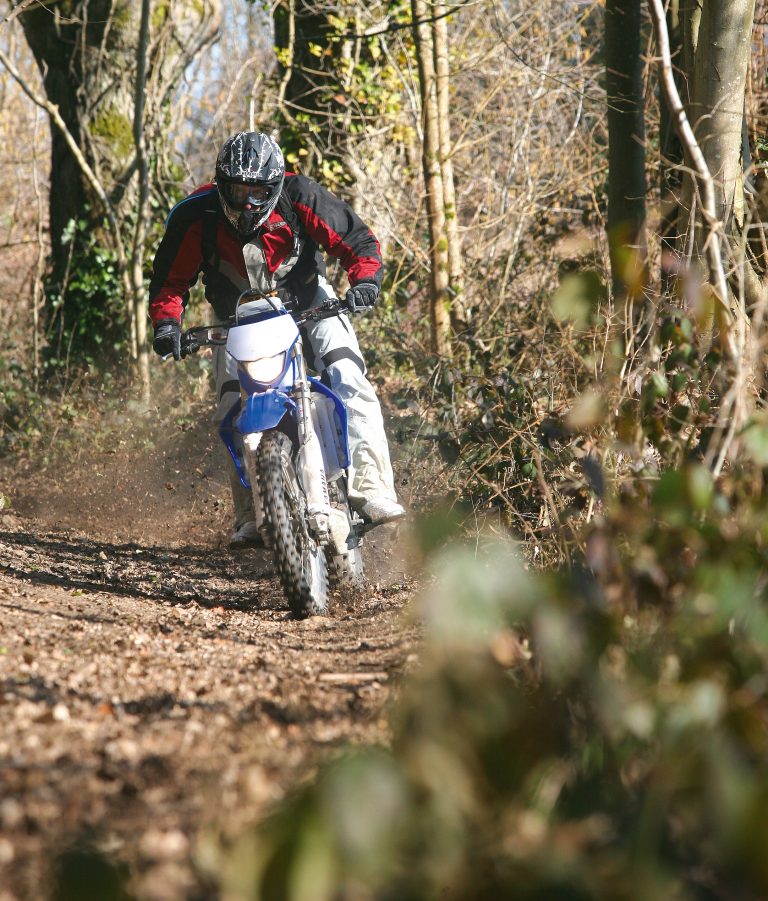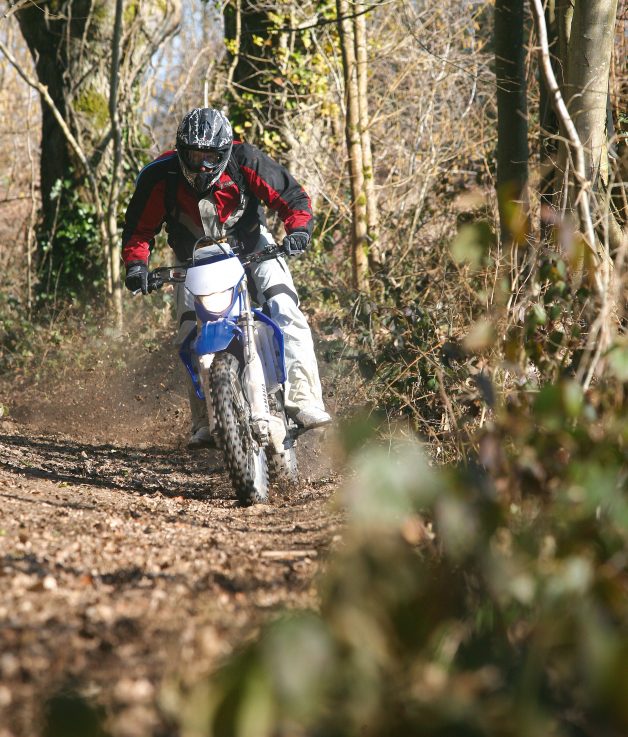 SECOND OPINION: JK
Setting off on a trail ride on a 12 year old competition bike might not seem that daunting, but setting off on an overseas, long distance, winter trail ride on a bike I last saw over a decade ago, was something I definitely wasn't savouring. All kinds of disastrous thoughts entered my mind as we set off at an easy pace to warm it up. But with the rocketship 450F out front, the pace didn't stay too easy for too long. And even though the bike I was riding looked immaculate (some new plastics and a thorough spit and polish saw to that), I was only too aware of the twelve hard years of use it had already seen.
In fact I was concentrating so hard, listening for signs of imminent catastrophic failure that I failed to notice the big 450 storm off as the pace lifted to er… enthusiastic. Oh well it was now or never. Gunning the 400 to stay in contention as the mighty 450 stretched the elastic, the memories all came flooding back. Oh yes this thing felt good all right.
So good in fact that I forgot all about the smallish pegs, the slow steering and the slightly lumpen motor and simply reveled in the relaxed, but precise handling, the still-slick transmission and the comfy seat. Truth is this thing really didn't feel that old. Okay, you had your work cut out to keep pace with the Millennium Falcon 450 as it launched into Hyperspace, but a quick pit-stop to adjust the suspension revealed an oil tight motor, and nothing remotely loose or hanging off.
What's more it started again easily! This can't be the impossible to start nightmare of ancient folklore, can it? Because ours started easily first time, every time. Well… almost every time!
I wish we'd put some decent tyres on it as everything else was just peachy. I loved the way it felt so relaxed at normal speeds and although it ran onto the rev limiter a bit too soon for my liking, for most of the time it had more than enough go to keep pace with the latest tackle ahead. Even the brakes were more modern in feel, than the retro nightmares I had anticipated.
With a starting point like this, no wonder the WR Yams went on to greatness. It's just a shame that they picked up such a bad rep for not starting, cos if the factory had gone the whole hog and fitted these early bikes with an electric-starter, who knows what might've happened?
BUYING IT (in 2010)
Our 1998 WR400F cost us £600 for the bike alone with no MoT, no road tax and non-running (though it was running fine when it was last used, apparently). On top of that we added a front fender (£19.30), air filter (£12.95), oil filter (£4.00), spark plug (£6.65), rad scoops (£36.50), front brake lever (£6.00), side panels (£36.50), front brake pads (£17.00), rear brake pads (£17.00), high temperature paint (£10.75), frame paint (aerosol and tin £28.88), fork seals (£23.40), clutch cable (£14.00), throttle cable (£25.50), handguards (£22.50), and flexi-numberplate (£14.00). There was also the cost of a service, three hours of labour to find and fix the camchain/starting issue, a fork service (by Moto-Ward www.motoward.co.uk an excellent Yamaha dealership still going in West Sussex) and a bit of (paid) polishing. The grand total of which comes out to £1149.43. The bars, grips and fender bag were all found lurking in the back of UKRob's garage and thus were gratis…
POSTSCRIPT: 2010-2021
So what has happened in the next 11 years of the WR-F story? Colour aside, the latest WR-F shares little of its DNA with the 2010 model, let alone the 1998. Yamaha's reverse-cylinder engine has changed everything and the latest beam-type frame shares nothing with the early cradle-type alloy frames.
Like the 2010 bike the 2021 has a powerful motor, the old motor was lusty and long-legged, this one can be just plain crazy fast, capable of the kinds of acceleration and top speeds that will probably have your eyes watering and nose bleeding at the same time – hence we're always requesting for 'soft' maps whenever we ride one.
Unlike the 2010 model it now has a far racier chassis, which turns nearly as sharp as a 250F and comes with suspension that's ready to race, not to baby you on the trail. There's a sense of full-circle, after years of pandering to trail riders, making the WR450F comfortable as it were, now it's a full-bloodied racer again. Albeit it's easier to ride than it has ever been. Only when you're riding more than a few hours and the going is technical, when is/was a 450 enduro of any colour ever that easy? Yeah, it's a racer all right, but with our level of fitness and capability, for us it's a stonking trail machine… yeah, we need our rest breaks (often).