Fantic have, like many an Italian manufacturer, been through the motions over recent years. But they're back again and with some great trail bikes, the 250E is arguably their best
WHAT IS IT?
It's a brand new trail bike from Fantic, an Italian manufacturer reborn – not for the first time (see panel). Recently Fantic have been making 50s, 125s and 200cc trail bikes (two-stroke and four-stroke – see RUST 17) but now here we have a 250cc four-stroke, kind of a full size trail bike at last.
WHAT'S THE TECH?
The engine comes via Piaggio-Zongshen (we're pretty sure it also features in Zongshen's racy RC3 road bike), it's a water-cooled SOHC four-valve four-stroke single, pumping about 28hp. There's a six-speed gearbox to go-with. It's not fuel injected though (which is curious as the RC3 is).
The frame is new, being chrome-molybdenum steel of a perimeter design (older riders will recall Kawasaki KDX200s featuring such a design!) with aluminium swingarm and subframe. Styling and detail is decidedly enduro – neat and slim – and the finished article is entirely contemporary, right down to its black-anodized rims. Suspension is Fantic branded (made in-house?) and of a trail rather than enduro spec – those forks are 41mm USD units, not 48s.
It's road legal and Euro emissions compliant yet weighs a super-commendable 104kg.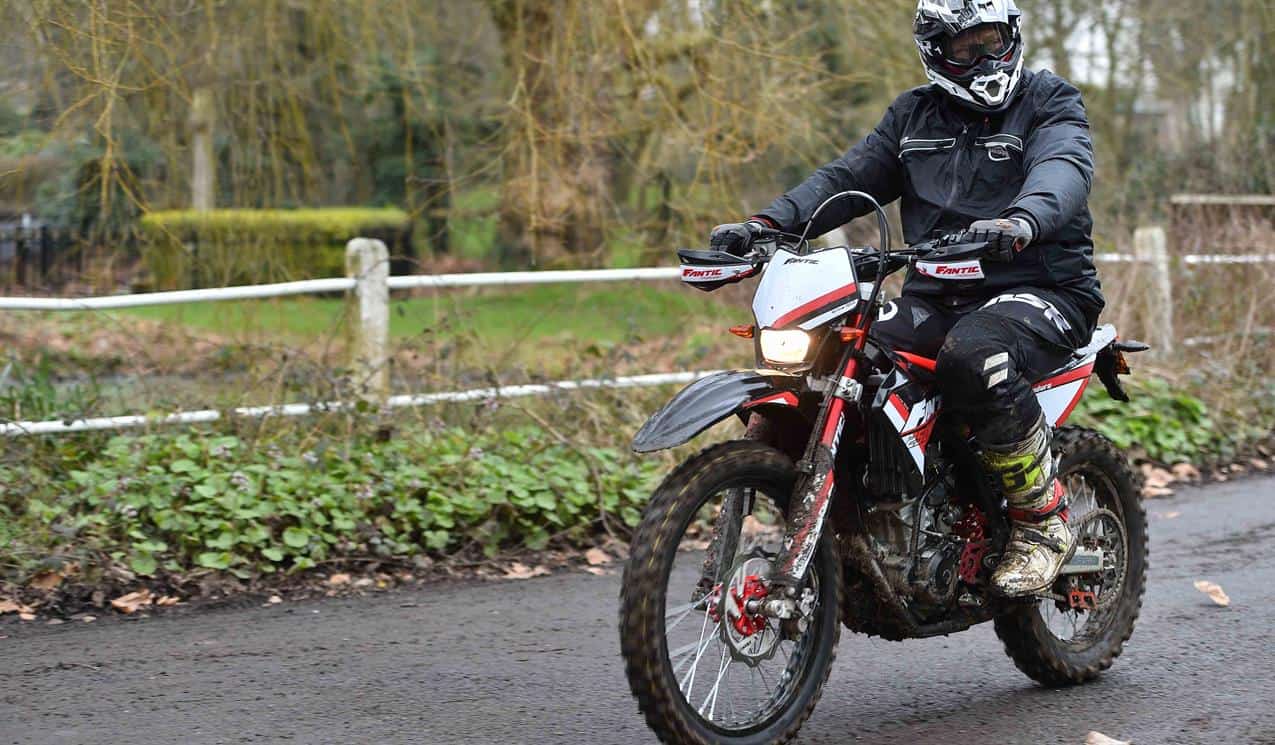 AND THE RIDE?
The 250E impresses immediately. Obviously it's very light, but when you sit on it the suspension doesn't immediately collapse, the way it can on some soft-spec'd trail bikes. It stays stood-up – albeit lower than your average enduro, the seat height is 915mm, not 950-970mm – and everything about it feels like a regular enduro, the way the bars, seat and pegs combine.
There is an ignition key, though, which is damn useful – something that's been dropped from most competition models these days (making pub/bar/cafe and even tea room lunches a fractious matter for trail riders) – and given this is a carbureted model it can need a bit of choke to start.
ON ROAD
The engine pulls well enough, there's some decent torque from low revs, but equally importantly the six-speed box is well-spaced and slick shifting. On the road it's actually quite adept. The test bike came with stock 14-tooth countershaft sprocket (keen off-roaders might seek to gear down with a 13T) and got up to a highway limit of 60mph (100km/h) quite readily. In fact it was quite easy to stop at fifth gear thinking that was the top ratio, given it was pulling fairly low revs and making decent speed; so sixth could almost operate as an overdrive – much better than being short-geared and breathless.
The motor sounded a little like an air-cooled motor (making a metallic throb) when cold, but once warmed-through became quieter and smoother. Its not a revver like the latest 250cc four-stroke racers, instead its best performance is to be found in the low-to-middle range, feeling more like a Honda XR250 of old than a KTM 250EXC-F – which is actually a good thing.
The Fantic held the road well, too, wasn't skittering at all, despite its light weight and enduro tyres. For daily commutes it would be quite adequate. The saddle was firm, enduro style, but surprisingly comfortable, quite possibly better than that found on Honda's CRF250L which is arguably too soft for longer journeys.
If there was a sense of wanting more in any aspect it was probably the brakes, both needed a fairly meaningful squeeze to get to maximum effect and the feel was a little wooden. Sometimes a simple change in brake pad brand can make a big difference here, so it would be worth checking out alternative brake pad manufacturers.
OFF ROAD
The Fantic took to the off-road like a natural – as you'd expect. It's not going to chase down any modern enduro weapons, it has neither the power nor the suspension for that, but for regular trail riding at steady speeds it was spot-on.
It has quite a spacious cockpit for the standing rider and while at 1.82m (6'0") I'm usually finding myself either stooped or cramped, on the Fantic there was enough space for a natural standing riding position while the bars were wide enough to allow a properly braced elbows-up stance.
Tight cornering was not quite on the money, though, not sure if that's due to the geometry or the Mitas front tyre (maybe even the tyre pressure). Most trail riders wouldn't have a problem here, but coming from razor-sharp enduro bikes there was a slight vagueness that was probably exacerbated by the tricky muddy conditions we found.
However, the Fantic revealed its chops in two particular challenges we encountered. The first was a wet chalk climb (with steps created by wood planks) and here the Fantic tractored up the slippery terrain easily in second gear at low revs (despite the tall gearing). The second challenge was another climb, again on chalk, only much steeper and following deep narrow channels, footpeg high. We were down to first gear on this one, but again the engine displayed a real resistance to stall and would use its bottom end plonk to pull itself effortlessly to the top, giving the rider an easy time.
Bearing in mind the 90kg (200lb) rider, the suspension did a decent job, pitching somewhere near the upper end of trail quality (not quite enduro tough), but given this bike isn't intended to be ridden WFO through special tests, again it was fit for purpose.
THE DETAILS
The digital speedo was more than adequate and easy to read. The switchgear too was fine, simple but effective. The brake and clutch levers are a little lower-spec than enduro (the clutch lacks a span adjuster) but comfortable enough in use. It was neat to get hand guards as standard. Also, we like the mini indicators, the front ones are tucked neatly away and should stay well protected, the rear ones stand a definite chance of getting walloped, albeit are bendy enough to take a fair amount of abuse, but again are tidy enough not to offend and can aid safety in highway conditions.
The footpegs could stand to be just a little more aggressively serrated (especially for riding in mud) but again by typical trail standards are above average. The sidestand was spot-on, holding the bike fairly upright and then folding neatly away. A decent sump/bash plate would be handy though, if for no other reason than to protect the paint on the bottom frame rails.
To meet Euro emission laws there's a whole swathe of extra plumbing (check out the pipe coming from the exhaust header) but to the Fantic's credit it performed strongly all the same – and there's scope to remove the emissions kit (for competition use, naturally…) and so release a couple more horsepower. The exhaust, made by Arrow, is neat and just about quiet enough although where the connector pipe (to the muffler) makes a snake around the frame it can rub – and melt – your boot. Either a heat guard or alternative routing would help here.
THE VERDICT
The Fantic 250E makes a great impression on the rider. It's just a bit smaller than a competition enduro bike, but only fractionally, so it feels full-size while still helping the lesser-experienced (or smaller) rider by way of its lower seat height and modest weight. And it can go everywhere, the power is more than adequate and the chassis can deal with serious terrain easily.
As well the Fantic exudes both a sense of quality and, even, character. The motor grows on you and it can become a comfortable companion, you get to know where it's happiest, where it performs best – and that's exactly where it should be for comfortable trail riding. You want to relax and enjoy the nature, you want the bike to simply get along with its job letting you enjoy the rest – the Fantic does that. And so you get to like it. We had a full-on competition enduro bike for company on our extended test ride, but at no point did we want to swap to that bike, the Fantic fully satisfies.
So, at £4449 in the UK the Fantic Enduro Casa 250E is pitched quite clearly against Honda's £4649 CRF250L. The Fantic offers an alternative mix, though. The Honda we'd suggest offers a 60% road 40% off-road blend whereas the Fantic is probably about 25% road 75% off-road.
That's the theory. However, we have to give the Fantic extra points for performing very strongly on-road, the stock gearing allows it to travel at decent speeds quite easily and the ride position is both natural and sustainable – the saddle is pretty decent.
However, in the CRF's defence, the Fantic's motor isn't quite as smooth and sophisticated as the Honda's fuel-injected DOHC unit and as well as lacking a lockable fuel cap it is a little more rudimentary about some of its details. And looking so much like a competition dirt bike we'd be taking serious extra measures to stop the light fingered making off with it. It's not something we'd leave parked in the street overnight!
But for those who find the Honda a little wanting in off-road conditions the Fantic definitely answers to their needs. Its claimed weight is a whopping 40kg less than the Honda and this makes for a vast difference when you're trying to manhandle the bike through tricky going. And the power on the Fantic feels just that little more off-road suitable, with decidedly more oomph off the bottom. The geometry and the ride ergonomics are also a much better fit for trail work.
In all the Fantic is a cracking job, offering most of the off-road benefits of an enduro bike, but matched to an easy-going old school kind of motor that suits the cruise mode we really should be adopting when trail riding. It'll suit (should we go there?) young bucks coming up and old dudes who want the off-road agility of a competition enduro bike but without the revhound racy nature of modern four-stroke racing engines. In all, it's a well-rounded package and spot-on for the job of trail riding. Nicely done, indeed.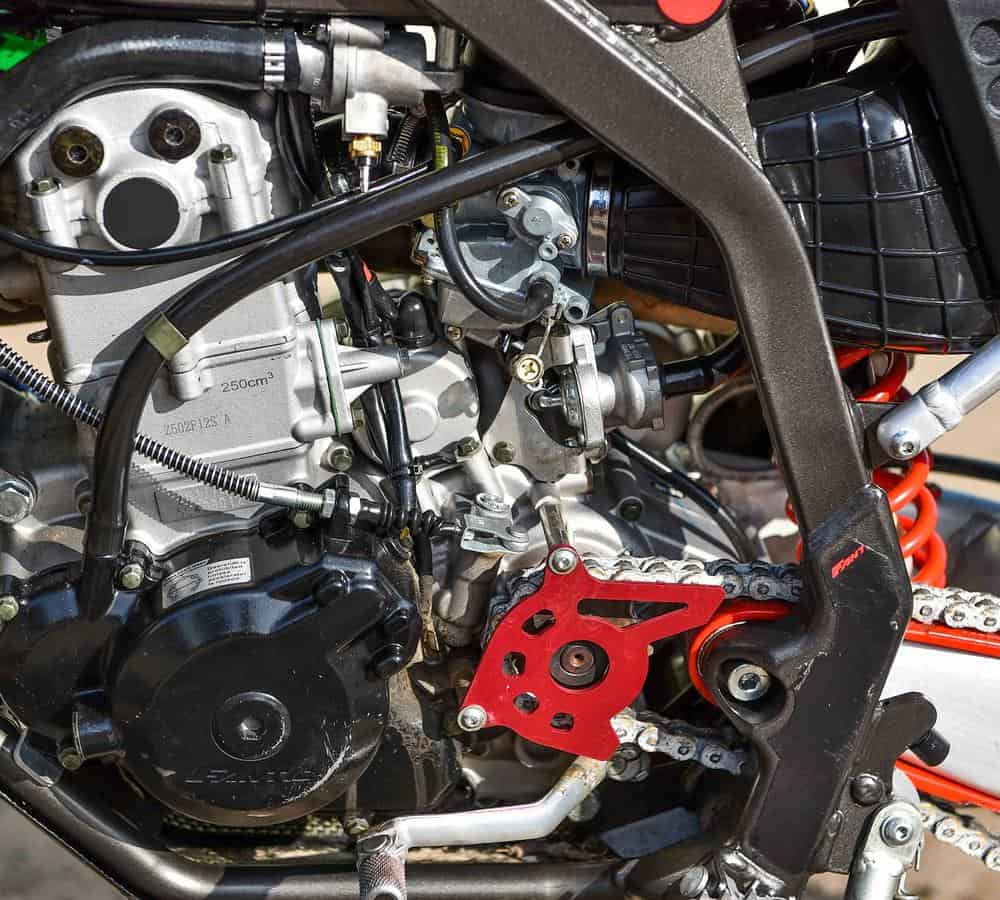 FANTIC
The second, and third, coming…
Editor JB had a Fantic 200 Trials back in the mid 1980s. It was an awesome clubman trials bike; along with the 240 Professional it helped make Fantic the trials bike of choice for the decade – a situation underlined by Thierry Michaud's back-to-back world championships in 1985, '86 and '87. The Fantic trials bikes were well built, seriously robust and very competitive. You find a bike like that and you'll remember it forever, for all the right reasons.
Fantic were on top of their game in the early 1980s. The company was born in 1968, created by Mario Agrati formerly of Garelli. Initially concentrating on enduro but then diversifying into street and trials, the firm was producing up to 50,000 units a year at their peak. Sadly they lost their grip, the street market withered and Fantic were beaten by better-developed bikes in both trials and enduro. The firm limped along until declaring bankruptcy in 1998 – a sad way to mark a 30th anniversary.
However, the brand was revived in 2003 when two former Caballero-riding enduro enthusiasts bought up the name and restarted motorcycle production in new premises near Treviso in Northern Italy. New owners Frederico Fregnan and Massimo Bianchi had fortunes made in coffee machine and keys (respectively) but were keen to bring back the marque that defined their youth. Again connecting with the Minarelli engine manufacturer to create a new line of Caballero lightweight two-stroke enduros, the firm again created 50 and 125cc machines and using a Gas Gas motor would even create a 300cc two-stroke enduro, raced competitively in European and World enduro.
Some 11 years later, in 2014, the firm found new owners again, in VeNetWork, a consortium of successful businessmen from North Eastern Italy who invest in and apply managerial input into local industry of merit. VeNetWork installed Mariano Roman, formerly a technical director at Aprilia and Moto Guzzi as the director at Fantic. Roman's leadership has thus far seen the creation of this new 250cc trail bike while later this year we'll see a range of retro street scrambler machines, of course named Caballero…
FANTIC 250E CASA
Specifications
Engine: Liquid cooled SOHC four-valve single cylinder four-stroke
Displacement: 249.6cc
Bore & stroke: 77 x 53.6mm
Max Power: 20.6kW (28CV) @ 9000rpm
Max Torque: 22.5Nm @ 7000rpm
Carburetor: KEIMA ø36
Starter: Electric & kick
Transmission: Six-speed gearbox, wet multiplate clutch
Frame: Perimeter steel CrMo with aluminium subframe
Front suspension: FANTIC FRS ø41mm upside down
Rear suspension: FANTIC FRS, aluminium swingarm with progressive link
Tyres: 90/90×21 – 120/80×18
Wheels: Black anodized aluminum
Brakes: Front disc "Wave" ø260mm – Rear disc "Wave" ø220mm
Seat height: 915mm
Wheelbase: 1420mm
Length: 2100mm
Weight: 104kg
Fuel capacity: 7.5 l
Colours: red/white/blue or black
Contact: www.fanticmotor.it www.fanticmotor.uk.com
UK price: £4449.00