words & images: JB
second opinion: Craig Keyworth
There's a lot to like and there's a lot that's right about the Norden. Yet a 700 mile test, riding on and off-road across Wales, has left this RUST tester a little perplexed. I want to like it, I want to say it's a breath of fresh air, a neat new take on adventure. But to me, there's this sense it's missed the mark on more than one account. It's like Husky have tried to be too clever. It's even more unsettling because we've really liked Husky's 701, or to be exact the 701 LR, for giving us a successful new spin on the 690 platform. We know the Husqvarna guys can deliver. I'm just not convinced they have here. And for that matter, neither is co-tester Craig.
And so after all the excited, positive reviews from the world launch in the Azores, we have to ask, did the press get it wrong? 
The Spin
We suspect that when it came to the Norden, Husky's marketing department saw more budget than the R&D team. We say that because when you're making a third variant from a single common platform – and after KTM has already covered off the two outer extremes of 'hard enduro' and 'mellowed for the road' (namely the 890 Adventure R and 890 Adventure) – then as much as you might want to say 'we pitched this one in the middle' that's not a hot sales pitch. No, you need to spend up, go hard with a new story, you need celebrities, aspirational location film footage and images, then speak of escape, adventure, the journey of life etc. You're going heavily lifestyle.
R&D meanwhile sit there with the two 890 KTMs and get to quiz themselves, 'where can we go with this?' As said, ostensibly down the middle. Same motor, same chassis, but not 200mm of suspension, not 240mm, no, 220mm! Meanwhile the product design team know they have to re-clothe this beast, make it different, make it not another KTM. And so out with the modelling clay and we get this classic Kiska solution – slightly edgy, always a touch blocky, unconventional but with just enough of a hint of mainstream to make you think, 'yeah, alright'.
Honestly that is the Norden.
105hp
I think that's what saves it. 105hp is a useful amount of power. Back in the 1990s it was what a typical supersports 600 produced, enough to make a decent 120mph lap of the IoM TT course, so you're never going to be slow when you've got 105hp in a motorcycle chassis. Yeah, you've got plenty of hoof, and in a twin-cylinder package that kind of performance also brings enough torque, so snappy overtakes are not going to be a problem. Add in a super slick quick shifter gearbox and you really accentuate the positive – not only does the Norden (like the 890s) seriously haul ass, but it makes that high-performance cool popping sound with each immaculate gear change. When you want to make quick progress, it obliges.
Of course, it cruises just as neatly, effortlessly, and you have to say it's one smooth motor, the twin balancers do their job. While the motor's character is sporty it's equally balanced in terms of efficiency and ease of use. Unlike many other modern parallel twins, it's not a 270º crank, instead a 285º unit (as the crank pins are offset by 75º) so instead of mimicking an 90º L-twin (think: Ducati) it mimics KTM's own 75º vee-twins (as per 1290 etc). So it's slightly different, and as said earlier, there's a bit of an edge there, which we often like (not being pipe and slippers types).
Having said all that, yeah, it's the KTM 890 motor, isn't it?
Travel bike
We've said this before in other tests. KTM and Husky have caught on with the nuances of adventure – understanding there are rally types and there are travel types. Husky clearly have the travel types in their sights with this one. It says so on their website. The Norden 901 is, at last, company for the firm's only other travel offering in their catalogue, the 701. It says so there, and they say travel over and again in every brochure for the Norden and in every last bit of social media. And we have Lyndon Poskitt duly travelling through Sweden on one in their neat wee promo film. Lyndon does the odd skid, dives into the occasional forest, parks up on a shoreline, but he's ostensibly travelling in a sightseeing fashion. Not racing.
That kind of feeds into the accommodations on this bike. You sit on it and it's not an 890. The Norden sits squat and square; the handlebars and footrests are low and high respectively. Lower and higher than you expect. And the seat is flat and wide. It's not a classical adventure seating position, more street fighter (which you may recall from the 1990s were supersports bikes minus the fairing plus straight bars). Riding the Norden, that feeling comes through. You bat it through the gears and pitch into the curves with some enthusiasm, totally forgetting it's running on a 21"/18" wheel combination (not 17" semi-slicks) and its as well the Pirelli Scorpion Rally STRs grip as well as they do on the road, and as well the Norden comes with cornering ABS etc as you can get pretty happy with it.
There's a caveat to that. While sporty and natural for snappy road riding, it's not immediately a long-distance perch. Even with the seat raised it's still a tightish relationship between seat and footrests, and even Craig, with shorter legs than JB here, was soon into that regular leg stretching routine that comes after an hour in the saddle. Oh yes, and the saddle – it's an odd one. Properly narrowed at the front edge to help you get your feet down, but seriously broadened toward the rear and quite flat and board-like. No, it's not the most comfortable and surely will go some way to selling more gel-seat options from the Husky technical accessories catalogue.
The bodywork sits around you exactly like it looks. There's a kind of blunt, stubby feel to it. It has a low, simple, quite upright screen (not adjustable), that feels to do just enough, although we both experienced some helmet buffeting with it (Craig more than me). And the fuel tank and upper fairings feel wide and stumpy, all short flanks, it in no way looks or feels sleek. Again, a bit street fighter-ish. And deepest apologies to the designers here, but I can't get Transalp out of my mind when I look at the headlight and fairing top sections. However, let's end this paragraph on a positive, the fog lights are a neat touch – probably more useful for picking the bike out among traffic, but also they add a bit to night time vision.
Trail bike?
You spotted the question mark, there, didn't you? Yeah, here things get tough. Where do we start?
Okay, standing riding position: not good. As you might have guessed the low bars and high footrests are not an ideal combination for off-road. Now let's add that odd seat and the broad bodywork – these feel to lock your knees and calves into the one position. If you want to slide forward or back (while standing) then you encounter resistance, or at least a broadening of the bodywork that unnaturally spreads your stance. And that square seat – you feel its edge pushing on your calves.
Next – and we're sorry, this isn't getting any better – we're not sold on the WP Apex suspension. It's not the plushest, despite the claimed 220/215mm it doesn't feel long travel and the whole effect is a bit 'crashy' – that's not a real word, but popping along gravel trails with the odd rock and pothole the Norden did kind of crash its way through. We had the RUST long term Yamaha Ténéré alongside (not a model known for having immediately superior suspension) and the feeling on that was far plusher, almost quieter, and altogether more comfortable.
And… (honestly, we're sorry Husqvarna) when the ride gets like that, then 105hp can get a little bit raggy, you notice the on-and-off of the throttle where the 70hp of the Ten' felt smooth and balanced.
Dare I say more. Okay, one more bit, again this has to relate to the suspension and ergos – it just didn't feel like a dirt bike. What makes the Norden quite the weapon on the road, makes it feel a touch (and touch more) awkward on the trail. It put me in mind of KTM's 390 Adventure, where the chassis geometry favours road riding. The 390 is okay in the dirt, while it's dry and hardpack, but it seems to go wrong in more technical UK terrain. Now the Norden's geometry reads to be ostensibly identical to the 890 Adventure, so it should offer a similar ride, but it doesn't feel so. Craig likened the Norden to being a rich man's CB500X. What we're saying is we think that it feels 70% roadbike, 30% adventure bike.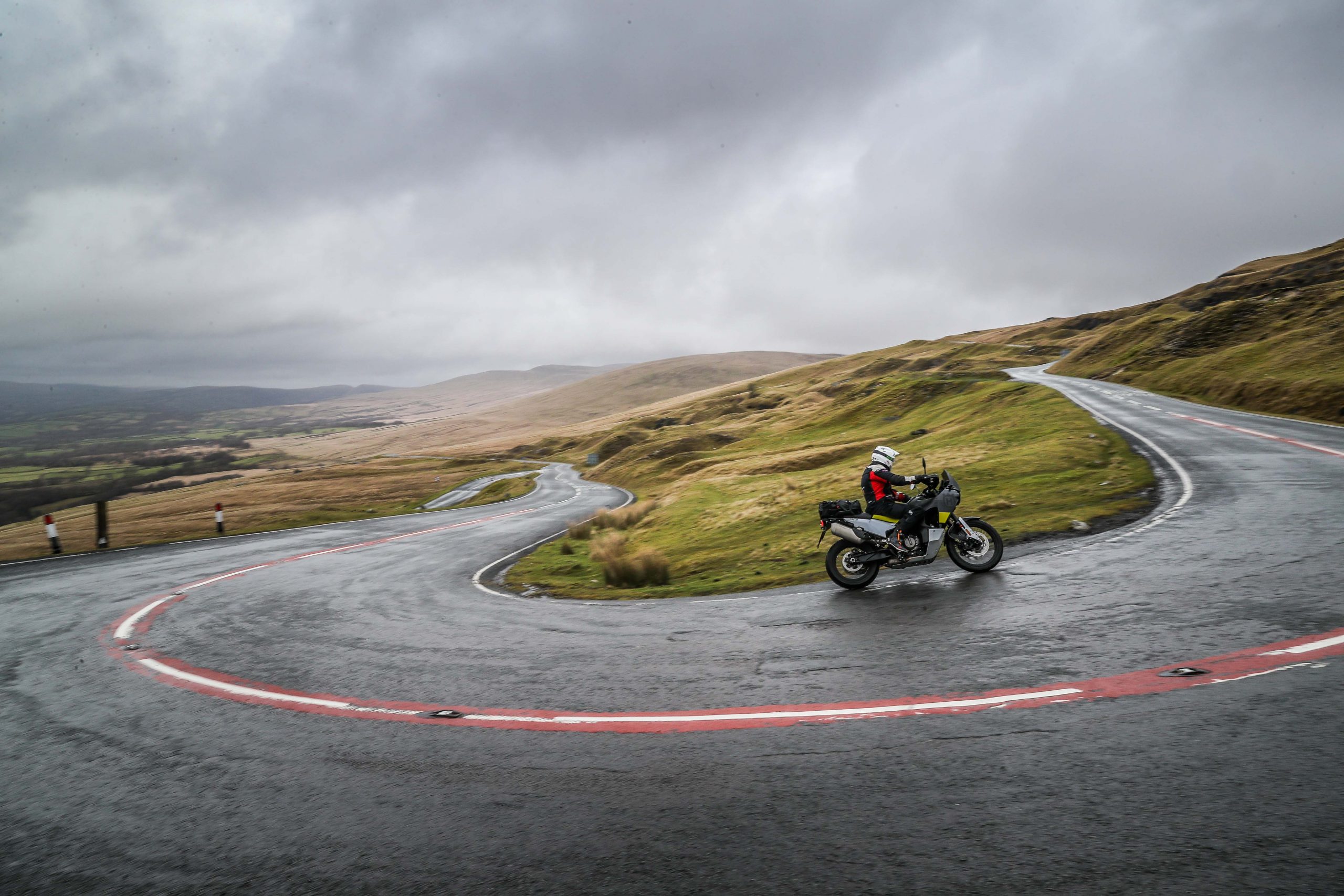 It's nice though
Yes, we do kind of like the look. We appreciate the fancy electronics, too. It has all the latest rider aids (including cruise control) and we like the functionality and intuitive operating system that goes with it. The TFT instrument screen is great. We liked the heated grips (especially when the air temp was reading 4ºC). We liked that the 19-litre tank gave a genuine 200+ mile range. We liked the engine's character. We actually champion the marketing message – let's get back to travel and stop jumping dunes like we're Sam Sunderland. There's lots we like. But. Yes: 'but'.
Look, we say this out of kindness, nothing more. We think somewhere in the product design process, going from 890 to Norden this bike transitioned – at the risk of sounding like we're describing cross-gender reassignment here – from an adventure to a road bias. For a lot of riders that will very probably be a good thing. After all, if they wanted a serious off-road biased adventure bike they'd have bought an 890 Adventure/R already. I guess what we're saying is if, like us, you thought this Norden would be a funky middle ground between the two 890s, then it's not. It's its own thing, a little left field. And in the words of Donny and Marie Osmond, she (the 890) is a little bit country, he (the Norden) is a little bit rock 'n' roll.. well, a lot road.
Only as a road oriented adventure tourer is the ride position not a little too racy, especially in terms of the saddle and legroom, and there's only a modest level of protection from the fairing and screen – it's not an immediate hit for long distances. While, as said, for off-road, it sits a way behind its KTM siblings. And after 700 miles, on and off-road, it's not like we didn't give it a chance.
Not that you have to listen to me, of course. There are other reviews (including Craig's below) and those who rode it at the launch in the Azores seemed pretty positive about it – albeit having ridden there I know the roads for being ultra-twisty – which suits its sports bike orientation – while the off-road there is generally fairly smooth.
So on this occasion – and at RUST being very much about the off-road experience – on balance, we'll stand apart from the herd and be brave and say 'it's not for us'. But that's just us. It might still be the brew for you, especially if you ride less off-road and like your road riding that little bit more engaging than a standard adventure bike typically delivers. It may even be that it's a Marmite bike: some will love it, some will loathe it. Will it be a success? Well, yes, time will tell.
HUSQVARNA NORDEN 901
& the competition
                                    hp        weight fuel capacity   suspension      seat height      price
Norden 901                 105hp  205kg  19-litre             220/215mm    855mm           £12,349
Triumph Tiger 900      93hp    196kg  20-litre           240/230mm    850mm           £12,100
BMW F850GS              90hp    214kg* 15-litre            204/219mm    860mm           £10,015
Yamaha Ténéré 700    70hp    188kg* 16-litre            210/200mm    875mm           £9,700
KTM 890 Adventure R 105hp  196kg  20-litre            240/240mm    880mm           £12,499
KTM 890 Adventure    105hp  196kg  20-litre            200/200mm    830mm           £11,499
Honda Africa Twin      100hp  208kg* 18.8-litre         230/220mm    850mm           £13,049
*calculated dry weight (not claimed)
SECOND OPINION
Craig Keyworth
My first ride on the Norden – a four-hour slog to Wales, mostly motorway – and I'm BATTERED by a savage headwind. The funky looking bodywork does pretty much nothing. Great.
Next morning, bright and early, we're up and at 'em with the golfers on the Gower Peninsula. I'm in follow mode mostly. JB with a posh new Garmin Monatana makes light work of the direction finding. I'm left to mess about at the back, trying a few skids and (rubbish) wheelies. I find, quite oddly, that I'm sitting down a lot more than I do ordinarily. If I stand, which I'm keen on, there's not a great deal of real estate. When seated my arms have a decent stretch on them – the bars are low slung, but a pleasantly decent distance away, yet awkwardly low if I stand. Even for my orangutang arms. So I'm sitting in the bike. It's a novel thing for me, and not entirely unpleasant, but the shape of the seats also means I'm not sliding to and fro as I'd like to. I'm constantly herded back to my comfortable little spot in the middle. I just opt to sit. The bike still works from here, nice and stable, I just find it odd that I'm not so free to hang off the thing.
We head onto the trails and the Norden obligingly offers a choice of ride modes, ABS and traction options, which I set to 'off-road', 'off 'and 'don't interfere' respectively. But 100bhp in mud isn't subtle. Fun in the shale, but straight to spinning on wet grass. (The much softer powered Ténéré doesn't fare any better). Don't get me wrong, I wasn't struggling off-road on the Norden, but it wasn't the slim and svelte Adventure R, and if we take a peek at the official promo shots, they're mostly gravel and unbroken, but steady surfaces. The suspension setup suggests the same. It'd lap up forest and gravel trails, or even the hard pack desert stuff all day long I'm sure, but if you're TOTALLY off-road touring… there's a 701.
Now the marketing blurb (and other excited reviewers) seem to claim that Husky has based the 901's ergos on their rally bikes and intend it to be ridden off-road as much as on. Well, as the owner of one of those rally bikes I can, with probably a decent slug of authority, state that this doesn't appear to be true. This may well not be a well-received opinion, but after riding the Norden for a fair helping of a long weekend I'm of the opinion I've been riding a road bike. Yet I don't think for a minute Husqvarna has missed the mark. I think they've captured their brief perfectly. I think it's the market that's missed it. It's without doubt a bike that's much better on tarmac than on the dirt. I'm not sure if we should be surprised.
So it was actually on the twistiest but quicker B roads of Welsh Wales (on the way home) that the bike came alive for me. And I have to wonder if the off-road raves we've seen in the launch excitement is really Husky's intent for this bike. How many bigger adventure bikes really go off-road? 
How would I pitch the Norden? If you want a lightweight adventure-tourer crossover, nipping to the beach or the woods once you get to your destination, this is your bike. If you want to go big in the desert or nadgery stuff, it's really not. The success here is that Husky have built the bike most people need, but marketed it as what people think they need.
HUSQVARNA NORDEN 901
SPECIFICATION
Engine: 889cc liquid cooled parallel twin eight valve four-stroke
Bore & stroke: 68.8 x 90.7mm
Claimed power: 105hp @ 8000rpm
Claimed torque: 73.8 lb/ft @ 6500rpm
Transmission: 6-speed, hydraulic clutch
Frame: steel trellis
Front suspension: WP APEX 43mm, 220mm travel
Rear suspension: WP APEX monoshock, 215mm travel
Front brake: Twin 320mm discs, radial four-piston calipers, ABS
Rear brake: 260mm disc, twin-piston caliper, ABS
Front wheel: 90/90-21 Pirelli Scorpion Rally STR
Rear wheel: 150/70-18 Pirelli Scorpion Rally STR
Wheelbase: 1513mm
Seat height: 854mm
Ground clearance: 252mm
Fuel capacity: 19-litres
Claimed dry weight: 204kg
Price (UK): £12,349